Principled Entrepreneurship Case Study
Sprint and CEO, Dan Hesse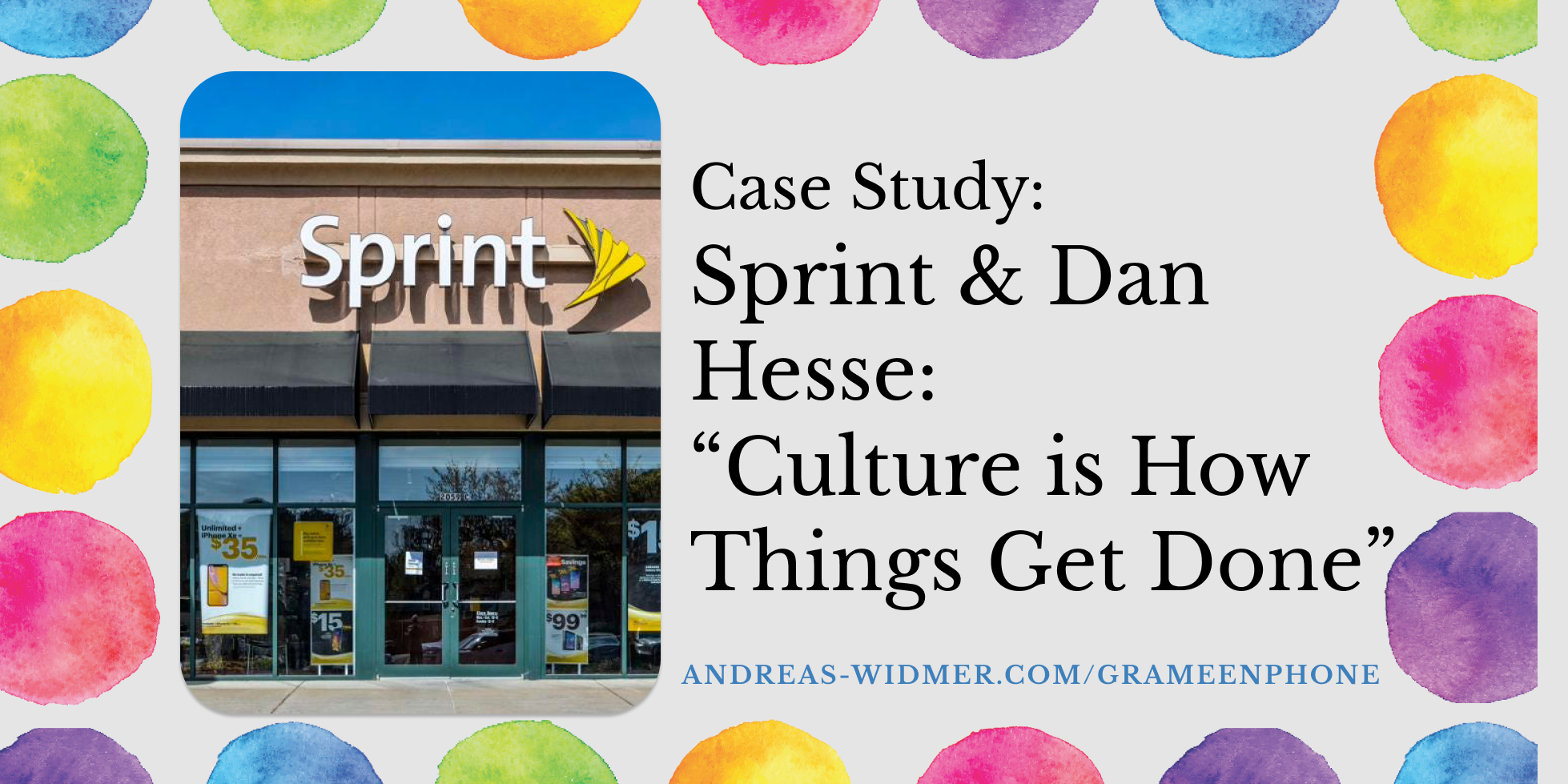 For two years after its merger, Sprint Nextel was losing lots of subscribers to AT&T and Verizon, the two leading cell phone companies at the time. While they added 2million new customers per quarter, Sprint was losing them almost at the same rate. Yet the combined company was supposed to be a great success: merging the two telephone infrastructures would bring about major cost savings. But soon after the companies joined forces it became clear the merger synergies contemplated would not materialize as the networks were entirely incompatible, and the company took a major hit financially, competitively and in employee morale. The CEO was ousted and Dan Hesse, the CEO of Embarq and the former CEO of AT&T Wireless was hired to take his place and turn the failing company around.
When he arrived, Dan realized that things were even worse than he thought: the company was rapidly heading toward bankruptcy – 6 months according to the plan of record. Dan had to act and act fast. The company was not meeting its merger targets for some time. Since the networks could not be merged, projected savings had to come from somewhere else. The previous team slashed across the board and that heavily impacted customer service. Sprint did not only lose customers at a rapid rate, but it was also dead-last in the customer satisfaction rankings. Sprint had no way to raise any further investments or funds. No investor would provide them with new money, nor would any bank lend them any funds – not to a company that was facing imminent bankruptcy. That pretty much narrowed what Dan could do at his new company.
He decided to focus on what would not need new funding: simplifying the business to improve the customer experience and company culture. Dan noticed fairly quickly that employee engagement and satisfaction were abysmal. There was a Sprint culture and there was a Nextel culture, living side by side in the same company. It's not that either culture was necessarily a bad culture, it's just that you can't have two cultures at once – it basically resulted in the company not having a functioning culture at all. Culture is the bond between the people, the common language, the camaraderie, empathy and respect that exists between the people of the organization. "Culture," Dan explains "is how things get done!" Creating a positive corporate culture was Dan's first order of business as he took over as CEO at Sprint. He selected a list of values and explained them to the entire staff. "Help me choose the values our company ought to pursue!" Everyone was asked to vote for their top 10 of the proposed 25 imperatives. In three years time, Sprint went from dead last to number one in customer satisfaction according to JD Power and the American Customer Satisfaction Index. And this wasn't just a one-time achievement. In 2014 the ACSI recognized Sprint as the most improved US company in customer satisfaction over the previous six years among all 43 industries studied. Dan is quick to point out that culture alone is not able to achieve these kinds of results, but it is foundational.