Principled Entrepreneurship Case Study
"The Little Ice Cream Company That Could"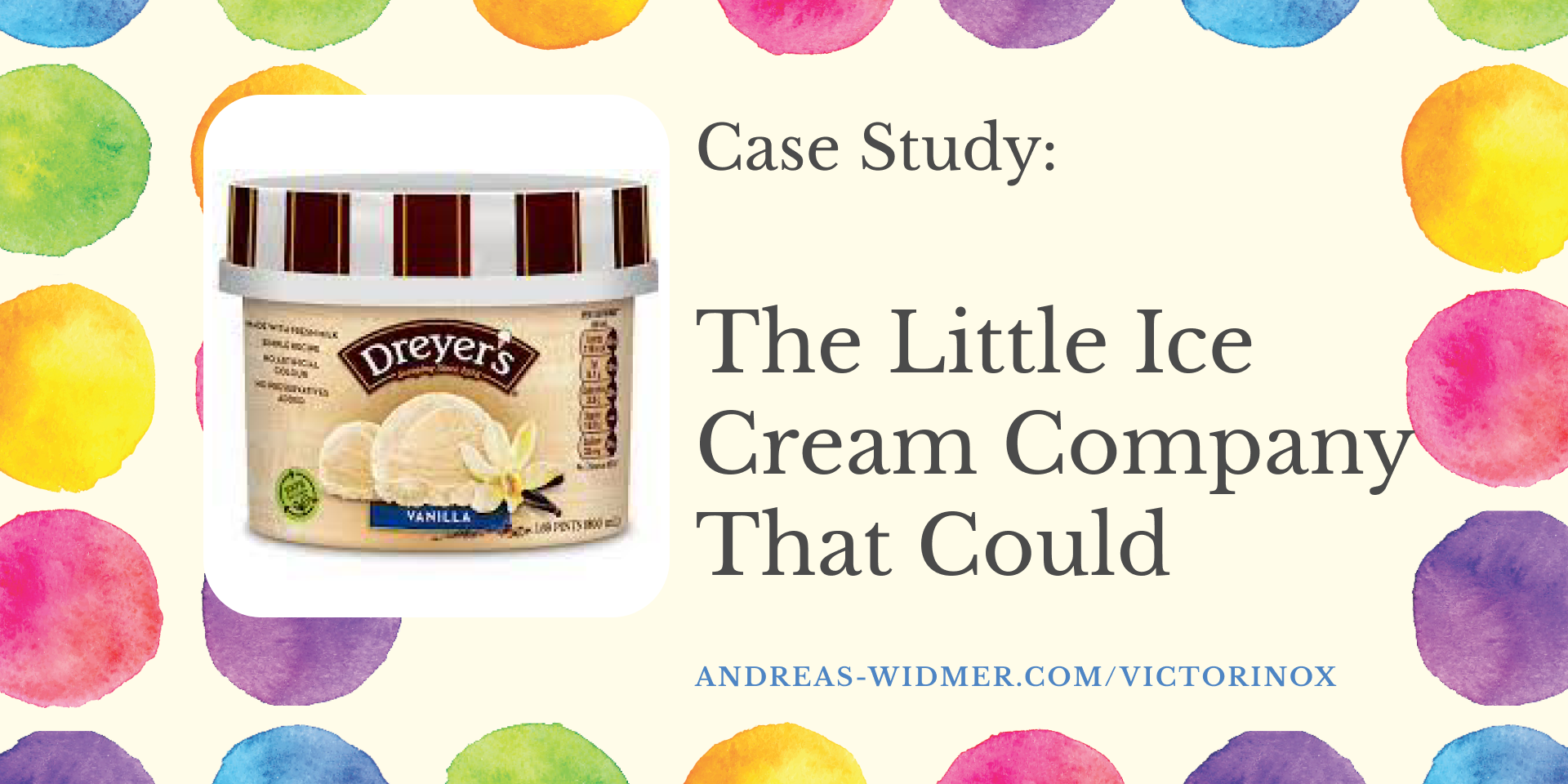 Gary Rogers had a successful start when he honed a system for trading over-the-counter stocks and left the company he was working for with his bills paid and $50,000 in the bank. Eager to return to the Bay Area where he grew up, Rogers accepted a job offer from McKinsey in San Francisco. He bought a Porsche, representing his standing there at the time as a well paid consultant. His next opportunity came knocking four years later when a former college fraternity brother invited him to join him as a partner in a restaurant venture. Rogers hesitated but eventually left McKinsey to help launch the Vintage House restaurant chain, which expanded to five locations before succumbing to financial difficulties after several years of struggle. Five years later, he was by then a failed restaurateur, broke, and with a wife and four young children at home. The experience "wiped me out financially," says Rogers. Down to his last $4,000 and in need of a job, he dropped in one day at the Dreyer's ice-cream plant on College Avenue in Oakland to inquire about franchise opportunities.
At the same time, Dreyer's had established a Bay Area reputation for premium quality and inventiveness, dating back to the debut of its Rocky Road flavor in 1929. In 1948 it opened the College Avenue facility as a state-of-the-art ice-cream plant. Fifteen years later, the firm was on the verge of bankruptcy when Dreyer's son, then in charge, sold it to key officers, including Ken Cook, who took over as president. It was Cook who cordially invited Rogers into his office that fateful day in 1977 when he was down to his last $4000 and in desperate need of a job. "We started to chat, and the phone rang," recalls Rogers. When Cook hung up, he had tears in his eyes. "I offered to excuse myself, but he said, 'No, no, let me tell you what just happened.' " Wells Fargo Bank had rejected Cook's loan request. "And I blurted out: 'Have you ever considered selling your company?' He replied, 'Well, no, not until just now.' Within days, I had an option to buy it." Rogers quickly went about rounding up the $1 million asking price: a $500,000 loan from the same bank that had rejected Cook, and the rest from a private-equity firm named Charterhouse. Now this same group demanded that Rogers serve up $100,000 of his own money. "I told them it might as well be $10 million because I only had $4,000 in the bank." Charterhouse relented and cut the figure to $28,000, still well beyond Rogers' reach.
At this time, Rogers invited his former restaurant business partner, Rick Cronk, to join him in the Dreyer's deal. As equal partners, each had to come up with $14,000 to satisfy the Charterhouse demand. This is where Rogers' Porsche came into play. Incredibly, its Blue Book value was exactly $14,000, so Rogers sold it to the company, used the proceeds as his equity stake, and, as Dreyer's new president, ended up driving the Porsche as his company car. "With God as my witness, that's what happened," says Rogers, who still seems amazed by the turn of events. The pair turned out to be savvy managers. Within four years, sales had grown to $30 million, and earnings went from breakeven to $1.5 million after taxes. "The company was on really solid footing and growing rapidly," says Rogers. Unlike its competitors, Dreyer's has always insisted on delivering ice cream to grocery stores with its own trucks and drivers to ensure product quality. Early on that meant customers could choose between fresh cartons of Dreyer's and ice-encrusted competitors' brands. Today, it means Dreyer's is still in charge of its in-store inventory. To help cover the high cost of its company-owned trucks, Dreyer's over the years has formed partnerships to distribute products for other ice-cream makers, including, at different times, Häagen-Dazs and Ben & Jerry's. It also manufactures and distributes ice cream in partnership with other companies, including Starbucks. Historically, these partnerships have paid off, producing about a third of Dreyer's revenue.